The Crazy Daisy Mastering Method




Pioneers of automated intelligent mastering systems, offering online mastering since 2003. We were the first to develop an intelligent digital mastering system to assist our engineers to produce quality, reliable mastered sound at an affordable price. Combining state of the art digital audio technology with experienced, professional human engineering expertise to provide consistent high-quality sound results. On this page is a brief explanation of the primary steps involved in our audio mastering process.



Steps in our mastering process
Crazy Daisy Mastering applies many adjustments to your song or audio track, as needed, to optimize its playback potential. These adjustments are made in two stages:

A digital software stage where your tracks are run through our own proprietary program that makes many of the main adjustments needed to achieve standardized quality audio conditions.


A human operator stage where an experienced audio mastering engineer finalizes your album by making individualized treatments specific to the genre and unique characteristics of each song, including EQ adjustments, fine-tuning, overall clean up and quality checking to ensure optimal audio playback and the proper conveyance of the artistic integrity of your material.
What are all the adjustments Crazy Daisy Mastering makes to your tracks during our mastering process?

Questions? We are here to assist!

EQ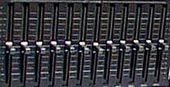 Our Mastering software scans your material to determine the current spectral content. A 117 band EQ adjustment can be made to shift things, as needed, to more closely match a preferred spectral curve. In this way material lacking in impact, body or clarity can gain these characteristics, while tracks that already exhibit these features are left relatively unchanged. An experienced mastering engineer then makes final changes based on the human element, the artistic aspects of music that must be heard to be understood.
Peak Trim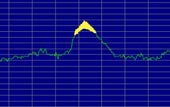 The Mastering program then scans your song looking for excessive volume peaks. These peaks are then trimmed slightly so they still maintain dynamic presence, but no longer take up too much headroom. In this way your whole track can gain up to an additional 2dB of volume level headroom without loss of dynamics.
Volume Envelope Shaping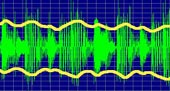 Most audio tracks have quieter and louder sections. Crazy Daisy Mastering applies smoothing/shaping to the volume envelope in order to balance inordinate disparity between differing volume level segments of the track. It also increases the overall apparent volume level of the track. In this way all parts can be heard strongly and there is never a desire by the listener to adjust the playback volume during listening. Volume envelope shaping is essentially a continuously updated, slowly adjusting compression/dynamics effect that shifts its settings continuously to create smooth transitions within your material.
Stereo Image Enhancement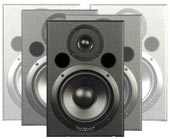 Crazy Daisy Mastering applies low-level left-right channel image decorrelation so that monoaural sounds become slightly broader and blend in better with left and right panned stereo sounds to widen the total stereo soundstage presence of the music.
Compression and Dynamics
Our Mastering system applies a layered series of dynamics, compressor, and limiter adjustments to maximize volume level and set dynamic range appropriate for media playback. This final effect, when combined with the other volume shaping effects, gives you the maximum possible volume level for all the tracks on your album and provides consistent volume from track to track and album to album. This step also makes your material radio and broadcast ready with proper RMS average dB volume levels, Loudness Units (LU), and dynamic range set specifically for each type of music or sound. The adjustments are applied by digital system, but an experienced engineer always selects the appropriate settings on a project by project basis for highest quality sound.
Finishing Touches
Crazy Daisy Mastering's finishing touches include setting proper (or custom) intro & exit fadeouts and inter-track pause, remove any DC offset, eliminate or minimize any audible pops or clicks, remove or reduce background noises and humming/hissing sounds, adjust left-right balance, encode ID Tags for artist, album, and track titles to display on MP3 tracks, and apply any customizations or attend to any specific notes that you may have requested using the notes section of the order form. (Some customizations may require an additional charge. CONTACT US with any questions.
We listen critically to the mastered audio track to ensure that the end result is of the highest quality. When requested, ID Tags are set indicating artist, album and song names, which are displayed on systems enabled to read this information. We provide final mastered tracks in three different formats: Hi-Res 24-bit WAV files (upon request), Standard CD Audio quality 16-bit WAV files, and high resolution 320kbps MP3 files. Download links for all mastered tracks are then emailed to you so you can easily retrieve them and download them to your own device(s).
Additional Options
We have many extra options to help enhance our services for you. See order form and pricing for details. We can also extract stereo audio from video files, master it, and replace it in the video or make an Audio CD out of it. Feel free to ask about any custom options you may be interested in, too. If you are unsure if your mixes are ready for mastering, we offer three levels of optional assistance to add to your mastering service -


Mix Analysis : Use this option when you would like a mix engineer to review your mixes and provide you with technical feedback, giving you an opportunity to make any last-minute mix changes yourself prior to mastering.


Vocal and Instrumental Separation Mastering : Use this option if you would like to give the mastering engineer a little freedom to EQ and level-balance the vocal and instrumental parts of the mix prior to mastering.


Stems Mastering : Use this option if you would like to have a mix engineer check over all the primary components of your mixes and apply any fine-tuning mix adjustments that may assist in optimizing the final mixdown for best mastering results.

Questions? CONTACT US. We are here to assist!