What Is Mixing?
Mixing is where we take each individual element within your song and set its volume levels, stereo panning, and EQ adjustments, and add any effects for that part independent of all of the other elements in the song.
What Is Mastering?
Mastering is where we take the resulting stereo mixdown from your song's mix and apply EQ, leveling, and other audio sweetening adjustments to ensure the final overall sound is optimized and up to industry standards.

Questions? We are here to assist with all your mixing and mastering needs!
We Offer 4 Levels of Audio Production Services
EXAMINE THE CRITERIA BELOW FOR ALL 4 SERVICE OPTIONS
TO DETERMINE WHICH IS BEST SUITED FOR YOUR PROJECT:


1. If your project fits any of the following criteria, you most likely need Mixing.

You have recorded your tracks, but have not done any editing, EQ work, added effects, or made any adjustments to levels or panning.
You have recorded your tracks and mixed them to some degree, but only to achieve a basic mix and you know there is still a good amount of mixing required to get it to sound the way it should sound.
You've recorded and mixed all your material and believe the final mixdown sounds fair to good, but you know a lot more can be done to it - you just don't have the time, experience, or equipment to get it there.
2. If you have already done most of the mixing work and now the project fits one or more of these criteria, you may simply need Stems Mastering to complete the work.

You feel like the mix is "very close", but there are a few small details you can't quite seem to get to turn out just how you want.
It sounds okay, roughly speaking, but when you and others listen to it critically you get comments such as "I can't understand your lyrics", "how come the guitar is so loud", or "why does the beat sound so boomy and muddy".
The sound is as good as you can get it in the mix so you thought it might be ready for Audio Mastering, but after hearing your Mastering Sample it became clear that there were a few minor mix issues that need to be addressed that you don't think you can adequately take care of yourself or you would like to have a different set of ears handle, just to be on the safe side.
3. If your tracks have been mixed and your project now fits any of these situations, you may want to utilize our Vocal and Instrumental Separation Mastering services to help finalize the sound.

You're mostly happy with your overall mix, but aren't completely certain the relative volume levels between your vocals and instrumental/beat parts have been set perfectly.
You're mostly happy with your overall mix, but would like to have just a little extra mix attention given to either the vocal part or the instrumental part independently, prior to having the combined full mix mastered.
You're completely happy with your overall mix, but you would like to give the mastering engineer a little extra freedom to work with the separated vocal and instrumental parts as part of the mastering process, just in case there are any minor level tweaks or any extra quality that can be squeezed out of the full track this way.
4. If your tracks have been mixed and your project is now best described by the following, then you are probably ready for Audio Mastering.

Your song is "almost there", but you can't quite figure out how to finish it to get it exactly as you want it to sound.
It sounds good as-is, but just needs that little extra "professional polish" to it.
Everything is good as-is, but it doesn't sound quite loud and/or full enough.
Looking for more details about the difference between mixing and mastering?
Check out this article on Soundfly by our lead engineer, Erik Veach.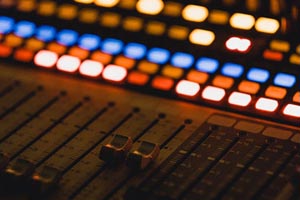 Do I Need Mixing or Mastering for My Music? What's the Difference?
Still not sure what level of mixing and mastering your project needs?
If you would like assistance determining whether additional mixing work would be beneficial to you, or if you simply need mastering to complete your tracks, send us one of your songs for a
free mastering sample
, or send us your whole mix session for a
mix evaluation
and we can provide recommendations on what level of audio services will be best for your song, whether it's mixing or mastering or some other issue that also needs to be addressed.
Links to online sound and music resource pages
We've assembled a list of a few useful resource pages to assist you with your music production, promotion, and other aspects of the music business.
Music Resource Links